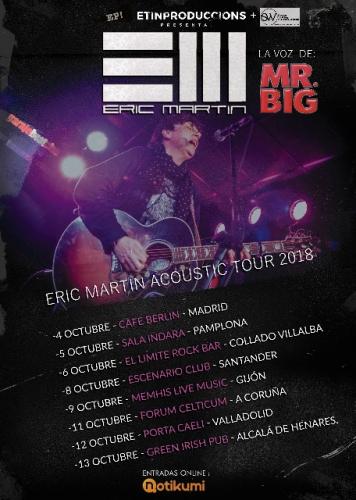 English
Eric Martin, soloist of the hard rock supergroup of the '90s Mr Big, with whom he has released a new album in 2017, and have made a long European tour, filling our stages again, has an extensive career as a soloist. Now he is also collaborating with the symphonic metal band Avantasia, and breaking news will open Gothard's concerts, doing some songs together.
Thus, with his band, Eric Martin Band, he has published Sucker for a Pretty Face, or works like I'm fooling myself, or the most celebrated series of Mr Vocalist, five volumes where he demonstrates all his vocal power, as well as originality for undertake all records within the rock and nearby music.
Renowned vocalist, as well as composer, his visits to our country with the band Mr.Big have often made it difficult for us in our country to enjoy him with his parallel projects, celebrated in Japan (where he is considered a myth and has enormous successes of popularity and sales) or in your home country the USA.
The last time he visited us with his own band was in 2010 on a tour of 3 concerts that we also organized and promoted from etinproduccions. Now we offer the possibility of having intimate concerts, guitar + voice, bareback, along with Marcus Granberg, also guitar + choirs, which harmoniously completes the live for its most demanding fans, with the proximity of small rooms and bars, made usual in the USA, but practically unpublished in our country.
Thus, next October we will have the opportunity to enjoy this great vocalist within a few feet of the stage, with the warmth, sincerity and authenticity offered by this type of concert.
Fecha evento:
Fecha:
Friday, October 5, 2018 - 06:00
Fecha:
Saturday, October 6, 2018 - 06:00
Fecha:
Sunday, October 7, 2018 - 06:00
Fecha:
Tuesday, October 9, 2018 - 06:00
Fecha:
Wednesday, October 10, 2018 - 06:00
Fecha:
Friday, October 12, 2018 - 06:00
Fecha:
Saturday, October 13, 2018 - 06:00
Fecha:
Sunday, October 14, 2018 - 06:00