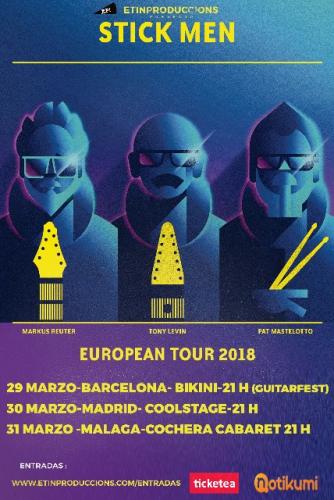 English
EUROPEAN TOUR 2018
Tony Levin & Pat Mastelotto, it is well known that they are the rhythmic basis of the greatest progressive and evolutionary rock band in history; King Crimson. Levin on bass and Mastelotto on drums, on his personal Stickmen project, Tony Levin plays the Chapman Stick, an instrument from which the project takes its name.
The Chapman Stick is a hybrid instrument that combines bass and guitar strings, along with a tuning near the piano, and is reinforced with the atmospheric guitar of Markus Reuter, creating a power trio that walks through all the sound boundaries of rock, progressive, jazz, and avant-garde music. It is a totally original musical project, of a musical and artistic level, that does not leave indifferent any lover of the most risky sounds of music in general.
Mastelotto's drum kit is not just a percussion instrument, it is accompanied by electronic and rhythmic bases, with loops and effects that create a really impressive universe of sonorities as we say on the border of hardrock, freejazz, progressive rock, rock intelligent, as often said style is known.
TONY LEVIN; A musician born in Boston, with an extensive career as an electric bassist, his work as a double bass player in the Rochester Philarmonic is already a legend of his beginnings. From symphonic music and jazz, he quickly joined the best rock projects in the 70s, leading him to collaborate with Pink Floyd, John Lennon, Alice Cooper, Yes, Gary Burton, Buddy Rich, until collecting in King Crimson and the Peter Gabriel's live band, where he has developed his famous bassist career. Having also published 3 books and 5 solo CDs, he pioneered the interaction with the fans of his music, having his web, www.tonylevin.com more than 4 million followers.
PAT MASTELOTTO; The well-known Californian drummer, besides having been one of King Crimson's fixed batteries for more than 20 years, has cultivated his own sound, since he has always explored electronic percussion, effects, samplers and loops, in projects as diverse as David Sylvian , The Rembrandts, or XTC, MrMister, in addition to multiple recordings where he researches based on traditional rhythms or worldmusic passed by his knowledge of electronic music.
MARKUS REUTER; Composer, guitarist, arranger, his beginnings were as a pianist, although upon contacting Robert Fripp and his school Guitar Craft, he became the favorite guitarist of Levin and Mastelotto. Initially he also played the Chapman Stick, although over the years they decided that his atmospheric guitar sounds filled the Stickmen project in a more forceful way. Projects with Ian Boddy, Robert Rich or No-Man singer Tim Bowness are some of his personal projects.
So, once again we have them again in our country, because their last visit was in 2011, and they come to present their new work, prepared in the middle of the endless tours with King Crimson, which we had good account in the 4 fillings of Madrid and Barcelona last 2016
Your new work is called Connected (2017) and we will present it on the following dates;
-29 March-Sala Bikini-Barcelona, ​​in the programming of the Guitar Fest 2018
-30 March-Sala Cool Stage-Madrid
-31 March-Sala La Cochera-Málaga
in all the nights we will have openers that will open the niche yet to be determined
Fecha evento:
Fecha:
Friday, March 30, 2018 - 06:00
Fecha:
Saturday, March 31, 2018 - 06:00
Fecha:
Sunday, April 1, 2018 - 06:00